Animesh Garg
Assistant Professor. CS. Robotics. Machine Learning.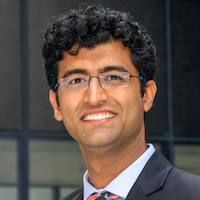 I am an Assistant Professor of Computer Science at University of Toronto and a Faculty Member at the Vector Institute. I direct the UofT People, AI and Robotics (PAIR) group. I am affiliated with Mechanical and Industrial Engineering (courtesy) and UofT Robotics Institute. I am also a Sr. Research Scientist at Nvidia.
I earned M.S. in Computer Science and Ph.D. in Operations Research from UC, Berkeley. I worked with Ken Goldberg at Berkeley AI Research (BAIR). I also worked closely with Pieter Abbeel, Alper Atamturk & UCSF Radiation Oncology. I was later a postdoc at Stanford AI Lab with Fei-Fei Li and Silvio Savarese.
My research vision is to build the Algorithmic Foundations for Generalizable Autonomy, that enables robots to acquire skills, at both cognitive & dexterous levels, and to seamlessly interact & collaborate with humans in novel environments. My group focuses on understanding structured inductive biases and causality on a quest for general-purpose embodied intelligence that learns from imprecise information and achieves flexibility & efficiency of human reasoning.
Research Interests: Robotics, Reinforcement Learning & Optimal Control, Computer Vision
Current Applications: Mobile-Manipulation in Retail/Warehouse, personal, and surgical robotics. Read more at PAIR Website
Link to (reasonably recent) CV.
Contact me: garg@cs.toronto.edu
Follow me:
---
Recent Talks
The following two talks cover the progression of research over the last 3 years in my group.
University of Waterloo Artificial Intelligence Institute (April 2021)


MIT Deep Learning Seminar highlighting recent work (January 2020)

Topical Workshop Talks
---
Potential Applicants
I am accepting new students at all levels. Thanks for your interest in my group.
However, kindly do not contact me directly with regard to Graduate Admissions.
Please see the opportunities on lab website and contact me accordingly.
Recent News
| | |
| --- | --- |
| Jul 8, 2022 | New ECCV Paper on Differentiable Simulation for Grasping. |
| Jun 30, 2022 | Workshop Talks at ICRA and RSS 2022 |
| Jun 30, 2022 | 2 papers at IROS: Scalable Sim2Real & Mobile-Manip with Articulated Objects. |
| May 25, 2022 | 3 New RL papers: Koopman-RL @ICML, LFIW @L4DC, & GLIDE @WAFR |
| Mar 2, 2022 | MAC, NSM and X-Pool accepted at CVPR 22. |
| Feb 28, 2022 | New papers on planning(PlaTe) at ICRA 22 and RL (LFIW) at L4DC 22. |
| Jan 21, 2022 | VaGram, SHAC and PBRL accepted at ICLR 22. |
| Dec 1, 2021 | Convergence in Policy Gradients accepted at AAAI 22. |
| Nov 16, 2021 | Organizing Neurips workshop on Deep Learning & Differential Equations |
| Nov 15, 2021 | Organizing Neurips workshop on Deployable Decision Making (DDM) |
See All